Tim
a
Owner
o
posted
Thu at 20:00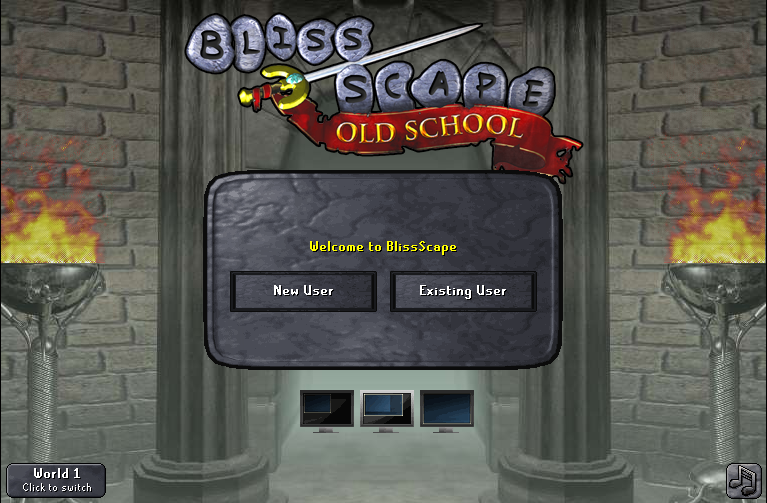 BlissScape OldSchool has just entered a closed beta!
After many months of scouring for sources, ripping out messy code, cleaning, and adding BlissScape's base systems OldSchool BlissScape is finally at a playable state!

Before I get any further I want to clear up a few things:
BlissScape 718 is not going anywhere and not losing me or any support! Now that BlissScape OldSchool is past the alpha stages BlissScape 718 will only get more love!
BlissScape Oldschool will be a completely separate server, with separate accounts, separate Highscores, website, separate forums (forum accounts will transfer through Enjin) and even its own staff (Current staff will be hopping between the two for a while)
If you don't like OldSchool that's no worries! You may continue playing the 718 version of BlissScape from now until the end of its life! (Hopefully many years to come!)
Now that that's out of the way let me explain a bit more about OldSchool BlissScape before I get into how to access it!
When I started working on BlissScape I had a very simple goal, make a server that I would want to play. I had no idea so many others would also want to play it with me. I'm very humbled by the success of BlissScape! We've become one of the top 718 servers! Most players are shocked that a 718 could even be this good! Since the majority of the top RSPSs are old school based. This got me thinking how I could get more people to check out BlissScape and other 718s and remove this negative bias they have. That is when I decided making a new version of BlissScape which is OldSchool based would be the perfect way! We can bring in all these OldSchool players the joys of BlissScape in a format they're used to! I've had many requests to bring OldSchool content into BlissScape as well, but it just would ruin the feel BlissScape currently has as a nostalgic 2012 server. Coming out with BlissScape OldSchool allows us to expand into this new field for new and current fans.
I can't wait to bring the smooth, user-friendly, blissful feel of BlissScape into the OldSchool scene.
Of course, there is still a ton of work to be done! I've added most of BlissScape's base systems to OSBS, so it already feels very familiar, but like any new project, it's still littered with bugs, exploits, and things that simply aren't complete!
The server is ready to have some people start playing on it though! The beta will be open to super donators (Dragon and up) at first. This is to give me time to fix any major issues that pop up before too many people start playing. If all goes smoothly it should be open up to all donators, and then everyone very soon!
I want to emphases the point that the oldschool server will have a reset once it comes out of beta, and maybe during. This is the only way to keep the HighScores fair once it comes out of closed beta! Doing this now will also prevent ever needing a reset again! BlissScape 718 hasn't had a reset since its own beta over two years ago!

Super donators will have access to a new text channel on the official discord. Here you'll be able to download the new launcher, request access, discuess issues, ask questions, and whatever else for OSBS!
And again for those who are not a fan of Old School, BlissScape 718 will still be developed just as much! I have an update planned for it next week as well.
I'll be looking forward to hearing everyone's feedback!